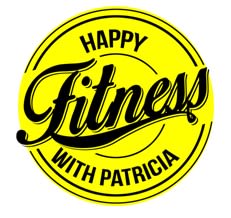 SCROLL DOWN TO SEE CLASS SCHEDULE and BOOK YOUR SPOT!
Welcome to Happy Fitness With Patricia!
NO Contract / NO Membership GROUP FITNESS CLASSES
featuring ZUMBA® Fitness classes.


Open to the public. All fitness levels welcome.
RATES: Walk-in $8.00, 10 class discounted class punch card $70.00.
Class punch cards are valid for both locations.
Operating from TWO locations:
AFPA Dance Studio in Scottsdale since 2013!
32619 N Scottsdale Rd., Scottsdale - (Summit Shopping Center).
AVIANO Clubhouse Gym
22500 N Aviano Way, Phoenix - (Near Desert Ridge Marketplace)
* Fitness events with Guest Instructors and charity events.
Join us!
Patricia Martelly - Happy Fitness With Patrica
Call/Text: 602-451-8899
Like me on Facebook: "Patricia Martelly" or "Happy Fitness With Patricia"
Instagram: happyfitnessaz
25

26

9:00 am

Zumba® @ AFPA Dance Studio

Patricia

5:30 pm

STRONG by Zumba® @ Aviano Clubhouse

Yamila

27

9:00 am

Zumba® @ AFPA Dance Studio

Patricia

6:00 pm

Zumba® @ Aviano Clubhouse

Yamila

28

9:00 am

Zumba® @ AFPA Dance Studio

Patricia

29

9:00 am

Zumba® @ AFPA Dance Studio

Patricia

6:00 pm

Zumba® @ Aviano Clubhouse

Yamila

30

9:00 am

Zumba® @ AFPA Dance Studio

Patricia

1

7:30 am

STRONG by Zumba® @ AFPA

Patricia

8:00 am

Zumba® @ Aviano Clubhouse

Yamila

9:00 am

Zumba® @ AFPA Dance Studio

Patricia

2

3

9:00 am

Zumba® @ AFPA Dance Studio

Patricia

5:30 pm

STRONG by Zumba® @ Aviano Clubhouse

Yamila

4

9:00 am

Zumba® @ AFPA Dance Studio

Patricia

6:00 pm

Zumba® @ Aviano Clubhouse

Yamila

5

9:00 am

Zumba® @ AFPA Dance Studio

Patricia

6

9:00 am

Zumba® @ AFPA Dance Studio

Patricia

6:00 pm

Zumba® @ Aviano Clubhouse

Yamila

7

9:00 am

Zumba® @ AFPA Dance Studio

Patricia

8

7:30 am

STRONG by Zumba® @ AFPA

Patricia

8:00 am

Zumba® @ Aviano Clubhouse

Yamila

9:00 am

Zumba® @ AFPA Dance Studio

Patricia

9

10

9:00 am

Zumba® @ AFPA Dance Studio

Patricia

5:30 pm

STRONG by Zumba® @ Aviano Clubhouse

Yamila

11

9:00 am

Zumba® @ AFPA Dance Studio

Patricia

6:00 pm

Zumba® @ Aviano Clubhouse

Yamila

12

9:00 am

Zumba® @ AFPA Dance Studio

Patricia

13

9:00 am

Zumba® @ AFPA Dance Studio

Patricia

6:00 pm

Zumba® @ Aviano Clubhouse

Yamila

14

9:00 am

Zumba® @ AFPA Dance Studio

Patricia

15

7:30 am

STRONG by Zumba® @ AFPA

Patricia

8:00 am

Zumba® @ Aviano Clubhouse

Yamila

9:00 am

Zumba® @ AFPA Dance Studio

Patricia

Show past weeks

16

17

9:00 am

Zumba® @ AFPA Dance Studio

Patricia

5:30 pm

STRONG by Zumba® @ Aviano Clubhouse

Yamila

18

9:00 am

Zumba® @ AFPA Dance Studio

Patricia

6:00 pm

Zumba® @ Aviano Clubhouse

Yamila

Happy Hour

Join us for Happy Hour, 5:30 pm at Hacienda's Mexican Grill at the Summit Shopping Center.

8:15 am

STRONG 30

STRONG 30

AFPA Dance Studio

Patricia

9:00 am

Zumba® @ AFPA Dance Studio

Zumba® @ AFPA Dance Studio

AFPA Dance Studio

Patricia

6:00 pm

Zumba® @ Aviano Clubhouse

Zumba® @ Aviano Clubhouse

Aviano Clubhouse

Yamila